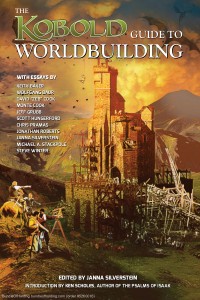 A bunch of advice and insight by gaming industry insiders.
Editor: Janna Silverstein
From: Worlbuilder's Toolkit
This book is an anthology of essays on various facets of worldbuilding, written by veterans of the gaming industry like Monte Cook, Keith Baker and Wolfgang Baur. The book starts out with some more general essays on worldbuilding as such, and then progresses to more specialised topics like options for religion, technology or magic in a Fantasy world , designing a mystery cult or how to write a "world bible" or work within someone else's intellectual property.
A couple of highlights:
Chris Pramas' "Worldbuilding Outside In or Inside Out", about two ways of doing worldbuilding. Do you start with the great strokes of the world, or do you start with the specific setting for your story?
Joshua Roberts' "Here Be Dragons: On Mapmaking", about creating maps for your world. A quick and accessible guide to creating good, believable and useful maps for your setting.
Michael A. Stackpole's "They do what now? On societies and culture", about creating interesting cultures, and thinking through the consequences of small cultural differences.
My impression: This is a very interesting book, and one that holds a lot of inspiration for someone embarking on a worldbuilding project. There is a lot of general advice, and the more specialised articles would be quite useful when designing those certain elements of your setting. The essays are short, which makes it easy to blast through one if you are in need of a creative pick-me-up. I might have wished that some of them were a little longer, but there you are.
My main objection is that they are rather focused around a certain kind of setting: the standard D&D Fantasy setting. While many articles refer to other kinds of settings (like Wolfgang Baur's "How real is your world?", which lays out a taxonomy of Fantasy worlds), it is clear that the focus of the book is that particular kind of world. I would have loved an article or two about science fiction world, or maybe on Urban Fantasy or contemporary horror worlds.
Other than that, the book might have benefited from perspectives outside of the very D&D-focused world of heroic Fantasy games. Maybe a Fantasy author, or perhaps even an Indie game designer. Or just someone from another corner of the "trad" rpg sphere – maybe someone from White Wolf/Onyx Path, or perhaps someone like Kenneth Hite or Robin D. Laws, who have been responsible for a number of different games.
I do like the book, though, as an inspiration for creating worlds for either Fantasy fiction, or for role-playing.
How would I use this: I would turn to this book when I need inspiration for a world – like when I'm about to start preparing for a new campaign – or during the process of designing a setting, in order to get some inspiration for things to consider.