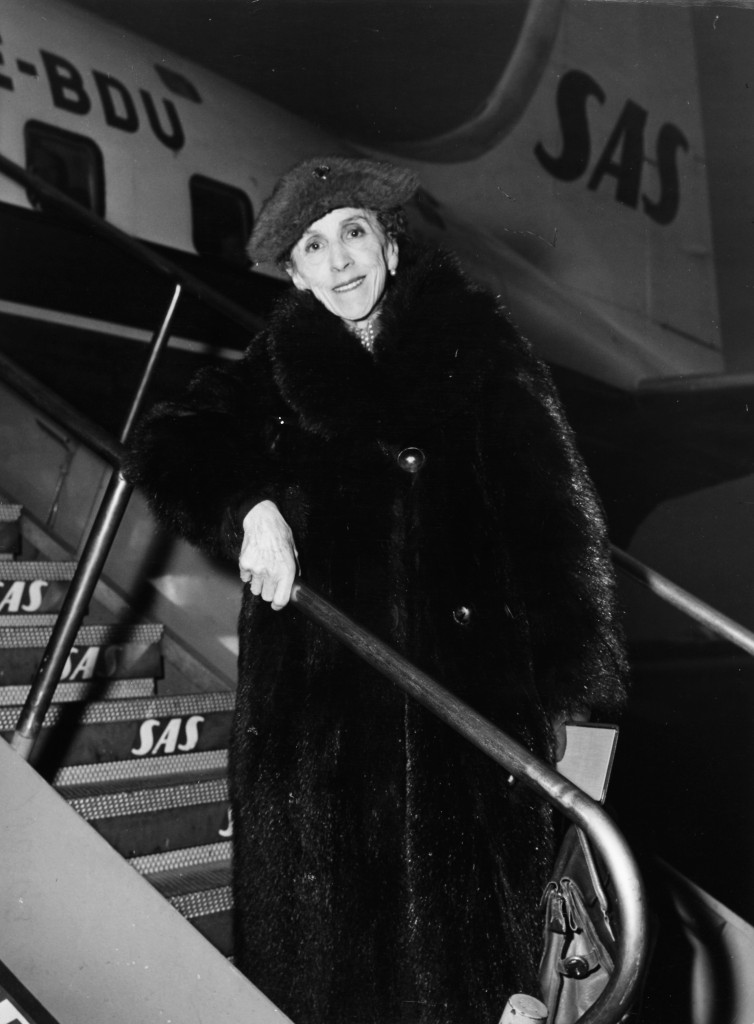 Name: Baroness Karen von Blixen-Finecke, Karen Christenze Dinesen, Isak Dinesen.
Tagline: Born to a family of Danish nobles, with a soldiering father, she married a Swedish baron and moved to Kenya to start a coffee farm. When both the farm and the marriage fell apart, she moved home, and spent the rest of her life writing stories.
Claim to fame: Writing such that Ernest Hemmingway said in his Nobel Prize speech that he would have been happier if she'd been a recipient before him.
Karen Blixen was not exactly out of boring stock. Her father fought in several wars, and travelled far. He lived with the Chippewa nation in Wisconsin for a while, and had a daughter there. When he returned to Denmark, he suffered from syphilis, a disease which caused him to suffer from depression. And then in 1895, when Karen was ten, he hanged himself after having broken his promise of marital fidelity by fathering a child with their maid.
Later on, she fell madly in love with Hans von Blixen-Finecke, a Swedish nobleman. But he did not return her feelings, and so she got engaged to his twin brother, Bror von Blixen-Finecke, instead.
The two were not well at ease living in Denmark, and so a common uncle suggested that they go to Kenya to start a farm. They married in 1914 in Mombasa, and went out to start their coffee plantation.
In the beginning, Bror worked at the plantation. It soon became evident, however, that he had no interest in running the farm, and so Karen took over the daily business of the farm. This also brought her into close contact with their Kikuyu workers, with whom she developed a strong bond.
Her love life was not going so well, unfortunately. Bror soon infected her with syphilis, and she went home to Denmark to receive treatment. She was cured, but suffered for the rest of her life. She believed the suffering was a remnant of the disease, but it seems to be more likely that it came from the cure, which contained high levels of mercury.
In 1919, Bror requested separation, and they were divorced in 1925. Karen became the official manager of the farm.
She also started a love affair with the British Denys Finch Hatton. She grew very attached to him, and he would often visit her. The affair lasted until 1931, when he crashed in the airplane, and died.
Denys' airplane was not the only thing that crashed around that time. It was the time of the Great Depression, and the world economy was doing quite poorly. The farm had not been doing so great to begin with, being too high in the mountain for coffee production. And so in August of 1931, Blixen was forced to sell the farm and move back to Denmark.
When she came home, she turned her energy to writing. Her first book was Seven Gothic Tales. It was written in English, but she had trouble getting it published. In the end, she managed to find a publisher, and it was published under the pseudonym, Isak Dinesen.
The book received acclaim, and was chosen as book club book, which boosted its sales tremendously. It was then scheduled for publication in Denmark and Britain. Blixen prepared the Danish version herself, making it more of an adaptation than a translation.
Next she published Out of Africa, a memoir about her time in Kenya. The book, amongst other things, talks a lot about her relationship with the local Kikuyu on the farm.
From there, her writing career took off. She published a number of books, and was selected for book clubs several times. She gained acclaim, particularly in the US.
As she grew older, she started gathering a retinue of young writers around her. Some of them have told remarkable stories of how she would be domineering and controlling. She could be jealous and manipulative, not least towards their wives.
In the fifties, Blixen's health deteriorated. She blamed her weakness on the syphilis, but she seemed to have been cured of that disease. Instead, she might have suffered because of the treatment she received, or it could have been psychosomatic. In 1955, she had a significant portion of her stomach removed, after which, allegedly, she would only eat oysters, grapes, royal jelly, and dry biscuits. At one point, she dined on oysters with writers Arthur Miller and Carson McCullers, and actress Marilyn Monroe.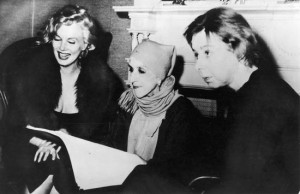 Finally, in 1962, she died, probably of malnutrition.
There are a great many weird and wonderful tales about Blixen. She told a story of how, while she was in hospital with syphilis, the devil appeared beside her. She had struck a deal with him, giving up sex for the ability to write. Since that day, the devil had been her best friend.
She was also one for a good motto. At a dinner in America, she told the audience that she'd had five, one for each stage of her life: Sicut aquila juvenescam ("I shall grow up as the eagle") – Navigare necesse est, vivere non necesse ("Sailing is necessary, living is not") – Je responderay ("I will respond") – Pourquoi pas? ("Why not?") – and finally, Be bold, be bold, be not too bold.
How I would use her: Blixen is an absolutely wonderful character. She spun stories around herself as much as she wrote them down on paper.
Different phases and perspectives on her life will fit different kinds of stories. Her years in Africa would be perfect as material for a pulpy story about treasure hunts, WWI fights and safaris.
Later on, she becomes a more mystical figure. She would be well at home in an occult or even Cthuloid story as the eccentric writer who may or may not be involved with forces beyond human understanding. She would also work as a character in a murder mystery in the vein of Agatha Christie.
In the intervening years, she could even be a main character – having just delved into the realm of the mysterious and esoteric.
I think Blixen also shows the power of a strong motto. All of her mottos could easily serve as an Aspect in a Fate game, like Spirit of the Century.