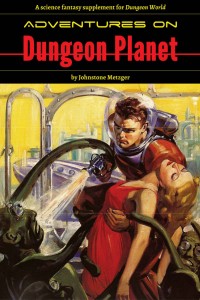 Science Fantasy Dungeon World on a weird planet.
Author/Designer: Johnstone Metzger
From: The Indie Cornucopia Bundle
For the second instalment of my Advent Calendar, I'm looking at the book Adventures on Dungeon Planet, a sourcebook for Dungeon World. I got it in the Indie Cornucopia bundle, a bundle that also held the main Dungeon World book, The Planarch Codex (another reskin of Dungeon World), Apocalypse World, some Fiasco playsets and a number of smaller games.
This book takes Dungeon World and adds a Science Fantasy layer to it. It has a tone to it that reminds me of Jack Vance, Edgar Rice Burroughs, Buck Rogers and Flash Gordon. The game tells what is essentially a Heroic Fantasy narrative, dressed up with weird aliens, clangy metallic robots and weird, nefarious overlords (possibly played by Max von Sydow).
The game comes with new playbooks, including the Earthling, lost far from home, and the Engine of Destruction, a robot built to kill. It also adds new Dangers for the GM to use, three new races to use as adversaries or PC's (Android, Alien and White Ape), stats for space ships and rules for creating a planet. At the end there is a bunch of Science Fantasy monsters to use in adventures.
My impression: I like many of the things that Dungeon World does with the apocalypse engine, but the standard Fantasy classes seem too bland to work as PbtA playbooks. Transposing the whole thing to a strange new planet and adding the new character options to the mix changes that to a large extent. It seems to me that the new classes in this document has a lot to play on, and I would love to play a game in this setting.
The book has a pretty nice layout, and the illustrations really underline the mood and setting of the book. Some of the monster stats in particular are not the most nuanced, but that is not a big deal. All in all, a rather nice basis for a (slightly silly, over the top) game.
How would I use this: I could definitely see myself bringing this game to the table, maybe for a one-shot, maybe for a short campaign. I don't know that I would want to do a long campaign in this, but that is perfectly OK – I can be satisfied with less.